The Instagram private messages of a person might be hiding a lot of things than you can imagine. Instagram has become the new Facebook and everyone is sharing their whole lives moments on it.
It is full of random strangers as well as a lot of other people you might not want your partner or your child to contact. However, you cannot forbid someone from talking to a person on Instagram, simply because their private messages are going to be hidden.
Therefore, in order to protect your loved ones, you need to read their private Instagram messages secretly. An Instagram hacking tool turns out to be perfect in this regard.
This guide will teach you all about Instagram hacking within minutes. You can get into anyone's Instagram account with the methods mentioned here, and they will never have the slightest idea about it.
Keep reading to find out the three ways to hack into an Instagram account without their password:
Part 1: How to Hack Someones Instagram without Their Password with Spyic
Spyic is hands down the best way to hack someone's Instagram account. What is Spyic? It's an app that's designed to monitor activity occurring on Android and iOS devices. The app is 100% discreet. It's also very powerful, offering 30+ monitoring features.
One of Spyic's top features is Instagram hacking. It's unique in that it can hack someone's Instagram account without jailbreak or rooting. Almost every other app on the market requires you to jailbreak or root the target device.
1.1 Spyic makes magic happen with its revolutionary technology
You can use Spyic to hack someone's Instagram directly. Here's why Spyic is so good at what it does:
Hack Instagram without jailbreak or root
With other Instagram hack tools, you need to jailbreak or root the target device for them to work. Jailbreaking and rooting are risky. They leave the phone vulnerable to malware, not to mention make the owner suspicious.
Spyic, however, doesn't need you to jailbreak or root the target device. It can be set up quickly, with minimal hassle. You don't need any technical skills to set it up or use it either.
Lightning-quick set up
You'll be able to set up Spyic in a matter of minutes. The Android version of Spyic is a small app less than 2MBs in size. You can install it in under 3 minutes. The iOS version of Spyic is web-based and can be set up remotely without touching the target device.
Hassle-free remote monitoring
Once you have Spyic set up, you'll be able to use it to view the target's Instagram activity remotely. The app's dashboard can be accessed via any web browser. If it proves necessary, you can even delete Spyic remotely with a single click.
View Instagram activity without your target finding out
The Android version of Spyic is super-stealthy. It runs invisibly, without draining much battery and using only a minute amount of system resources. The app is also very small, less than 2MBs, and is extremely tough to trace.
The iOS version Spyic is virtually impossible to find out. It's fully web-based. It works with the iCloud backup made by the target iPhone or iPad, as opposed to the device itself. Consequently, the user will never know you're monitoring them.
Spyic won't let you down
You may have never heard of Spyic, but it's an extremely popular app. Over a million people use it in 190 countries worldwide. The app is popular with parents, employers, and cybersecurity experts. It works as advertised and is malware-free.
1.2 Hack Instagram directly with Spyic
Spyic records all Instagram activity on the target device. Here's what you can do with the Instagram hack feature:
Read Instagram messages: You'll be able to read all the messages the target is sending out or receiving. This includes private and group chats.
Check timestamps: What time did the person get that particular message? You'll know for sure with timestamps.
Access contact information: Who's the target in touch with on Instagram? Spyic can show you names, display pictures, phone numbers, addresses, and more.
Download media files: Your target may have exchanged pictures, videos, and voice notes. Spyic allows you to download all the aforementioned and save it to your hard drive.
Read deleted messages: Worried your target may delete a conversation they don't want anyone knowing about? Spyic backs up all Instagram conversations to your account. You'll be able to read all messages, even if they have been deleted from the target device.
1.3 How to set up Spyic to hack Instagram without password
Step 1: Get a Spyic account. You'll need an email ID to use for the username.
Step 2: Choose the target platform you want to monitor: Android or iOS. Afterward, you'll have to purchase a monthly subscription plan. You can monitor single or multiple devices, depending on the plan you pick.
Step 3: Follow the setup instructions. Spyic can be set up remotely for iOS. For Android, you will have to download a small app onto the target device.
Step 4: Have access to the Spyic dashboard? You'll find the "Instagram" option in the selection panel to your left.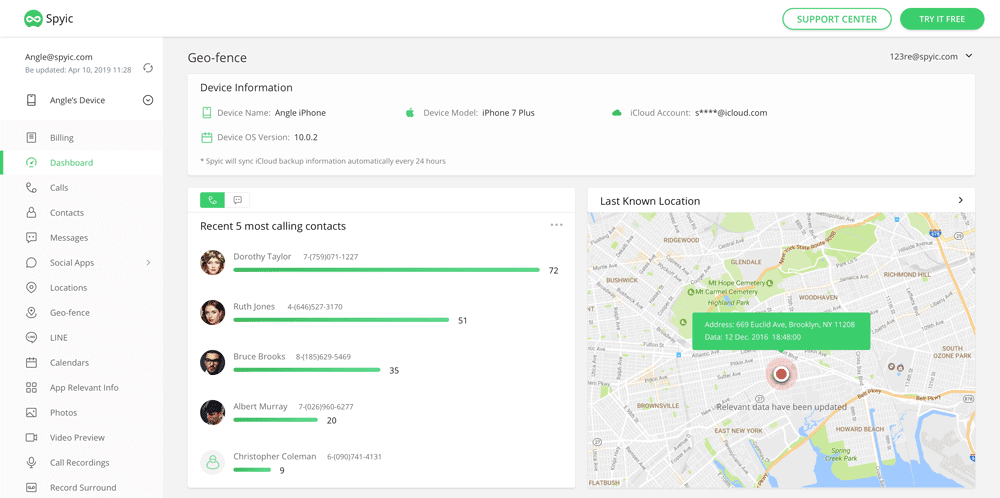 1.4 Use the keylogger to find out the target's Instagram credentials
Sometimes remotely monitoring someone's Instagram may not be enough. You may feel the need to log into the target's Instagram account directly. But you don't know the target's Instagram username and password.
Spyic can help you out here. It contains an in-built keylogger utility that can capture any keystrokes made on the target device. When the user types in their Instagram username and password, Spyic will record it for you. Check Instagram password hack here >>
You'll be able to log in to their Instagram account directly thanks to Spyic's keylogger.
Want to try out Spyic before you buy it? Here's the live demo!
Part 2: How to Hack Someones Instagram without Their Password
While Spyic is a great way to hack an Instagram account secretly, certain people prefer a more DIY approach. It is an added benefit if this approach can be accomplished for free. Here is one such method:
2.1 Hacking an Instagram Account Through Phishing
Phishing is a popular way of getting into any social media account, be it Instagram, Snapchat, Facebook, or any other.
A lot of people hack Instagram accounts through phishing. However, in order to use this method, one must have advanced knowledge of website design and programming.
Basically, phishing uses the technique of making a person log into a fake Instagram website. This website looks just like Instagram, so the person believes they are logging into their own account. However, when they login, their Instagram username and password are forwarded to you secretly.
Other than the requirement of high technical knowledge, this method also faces failure if two factor authentication is employed. Therefore, using a solution like Spyic is preferable unless you have a high level of technical knowledge.
Part 3: Hacking an Instagram Account Through Password Reset
There is another solution to hack an Instagram account secretly. However, this method requires you to be fast and is generally usable only once or twice.
3.1 Instagram Password Reset
Instagram password reset feature is available under the login fields. Once a user clicks on this option, a reset password link is sent to the email ID and messages of the user.
In order to get into their account, you will need to create a new password. It is important to have access to their phone and check their email or messages for the reset password link.
Accessing this link will redirect to the password reset window, where you can choose your own password and enter into their account.
While this method works well, the Instagram account owner will probably find out later that you have changed their password. Even if they won't find out, they are going to be more alert and you might not be able to use this method after the first or second time.
Therefore, if you want long term access to their private Instagram account, it is a better idea to use a hacking app like Spyic.

Endnotes
As you now know, hacking an Instagram account is not as difficult as you might have imagined it to be. All you need to do is choose the method that suits you the best and fulfills your requirements.
It is also important to stay away from most of the other hacking methods advertised on the internet. They might be clickbaits, scams, or tricks to steal your data. And remember, never ever hire a hacker to do what you easily can do yourself!
This post is also available in: Português (Portuguese (Brazil)) Español (Spanish) Deutsch (German)