Facebook operates one of the most secure websites on the planet. The company uses SSL to encrypt data being sent out to and from its servers. Encrypted data is virtually impossible to crack even if it's intercepted by a hacker.
Can You Hack Facebook Online?
Facebook was built to be hacker proof. But if you're here, you desperately need to hack a Facebook account. Perhaps you're a parent concerned about their child or an employer looking out for your business interests.
Whatever the reason, you want to hack Facebook, but you don't have coding skills or thousands of dollars to throw away. How do you hack a Facebook account? Is there a way for the technically-challenged?
There are, in fact, several ways to hack Facebook. You don't need to be a tech genius to attempt any of them either. All you need is a computer with an internet connection. In this article, we're going to give you three of the best ways to hack Facebook online.
Part 1: How to Hack Facebook Online Hassle-Free with Spyic
The most convenient, hassle-free way to hack Facebook is with Spyic. Spyic is a well-known, highly trusted remote monitoring app. It allows you to remotely see what's happening on a target Android or iOS smartphone or tablet.
Spyic is one of the only apps in the market that can hack Facebook without the need to root. It's used by over a million people in 190+ countries. The majority of users are parents who want to monitor their children and employers supervising their employees.
1.1 How does Spyic hack Facebook for you?
Spyic will hack your target's Facebook account in one of two ways:
Finds Facebook credentials with the keylogger
Spyic contains a powerful keylogger function. The keylogger is capable of recording every keystroke made on the target device. The typed words are then saved in a log file and shared with you.
How does the keylogger allow you to hack Facebook? The next time your target enters their Facebook ID and password, the keylogger will capture it and provide it to you! You can use their Facebook credentials to log into their Facebook account directly.
Just check Spyic's keylogger feature in the live demo >>
You could log into someone's Facebook account directly, but that leaves you open to being discovered. The target is bound to get suspicious if a strange device logs into their account suddenly. It might even cause them to change their password.
Fortunately, Spyic also has a direct Facebook hack feature. It allows you to view recently exchanged messages, contact details, media files, and more for a target Facebook account. All of this is done remotely, without you running the risk of discovery.
Just check Spyic's Facebook spy feature in the live demo >>
1.2 How to install Spyic
You can set up Spyic on the target smartphone or tablet in a matter of minutes. It works with Android versions 4 and up:
Step 1: First, sign up for a free Spyic account. You'll need an existing email ID. This becomes your Spyic user name.
Step 2: Next, purchase a suitable Spyic subscription. Depending on the devices you want to monitor, you can choose between Basic, Premium, and Family.
Step 3: Set the target platform to Android. If you choose iOS, you can't monitor Facebook. But you can check messages, call logs, WhatsApp, contacts, LINE, notes, and much more.
Step 4: Download Spyic onto the target tablet or smartphone. Don't worry; you don't have to root the device. Installation only takes a few minutes. After the installation is done, make sure you hide the app.
Step 5: Log in to your Spyic account. You can log in from any phone or PC browser. In the dashboard, look for the Social Apps > Facebook option in the selection panel to the left. Alternatively, you could use the Keylogger option at the bottom.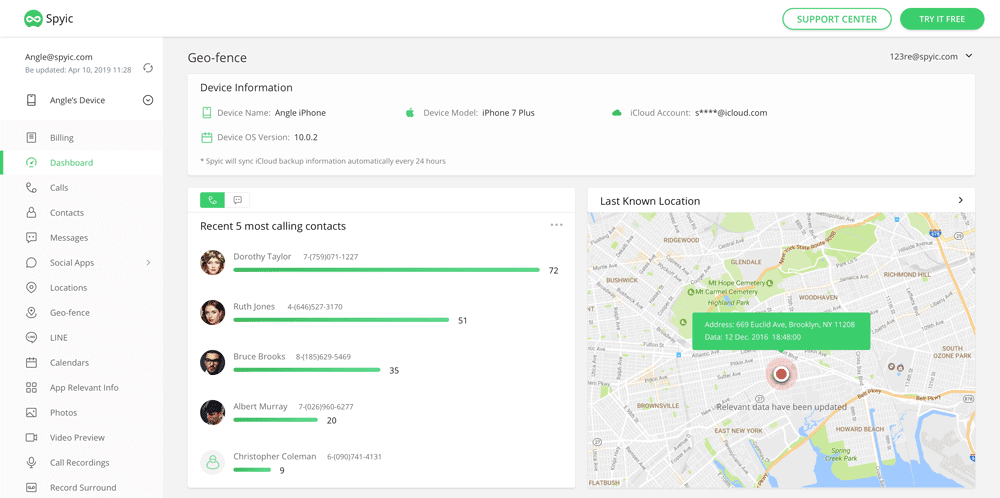 1.3 What makes Spyic the most potent Facebook hacking tool?
Spyic is one of the most powerful Facebook hacking apps around. Here are the top reasons to try out Spyic:
You don't want to be caught snooping into someone's Facebook account. This could permanently damage your relationship with the target. Even if your intentions are good, they are likely to resent your intrusion.
Luckily, you don't have to worry about being caught with Spyic. It's a true spy app. Once installed, you have the option to hide it. It will then run in the background, virtually impossible to detect. It only uses a tiny amount of system resources too.
One of the biggest advantages of Spyic is that you don't need to be in close proximity to the target to monitor their Facebook activity. Once Spyic has been set up, you'll be able to see what they're doing on Facebook remotely.
You just need to access the Spyic's control panel to begin monitoring remotely. You can do that from any phone or PC browser.
No technical skills needed
You don't need to be technically gifted to use Spyic. The app is very simple to set up and use. When you purchase a Spyic subscription, you're provided with clear-to-follow setup instructions. You can get the app set up in minutes.
After Spyic has been installed, it's easy to use. The dashboard is intuitively laid out and straightforward.
Most spy apps in the market require you to root the target Android device to hack Facebook. This is a complex process which can brick the device if it goes wrong. It can also leave the device open to malware attacks.
Spyic, however, can hack Facebook without needing you to root it, making it easier to use than the majority of the apps on the market.
Do more than just hack Facebook
Spyic is capable of hacking more than just Facebook. The app allows you to monitor WhatsApp, Instagram, messages, iMessages, call logs, pictures, videos, notes, and events on the target phone or tablet.
Spyic is used by over a million people in 190+ countries globally. It's trusted by parents, employers, and cybersecurity experts. Other spy apps infect your phone with malware and steal your personal info, but Spyic is legit and can be trusted.
Check out the Spyic Live Demo now!
Part 2: How to Hack Somone's Facebook with Cocospy
Cocospy is an excellent alternative to Spyic. Cocospy is a recognized name in the cybersecurity space. It was originally designed to be a parental control app. Today, it offers a full feature set that's suitable for general monitoring.
With Cocospy, you can effortlessly hack someone's Facebook account. You need to briefly access their phone to install Cocospy. After that's done, you'll be able to view the target's Facebook activity remotely.
2.1 Cocospy can help you crack the target's Facebook credentials
Like Spyic, Cocospy has a keylogger utility built-in. When your target types in their Facebook ID and password, the information will be saved. You can use their credentials to directly log in to their Facebook account.
Cocospy also offers Facebook and Facebook Messenger spy options. You can view recent Facebook or Messenger activity. This includes exchanged messages, timestamps, media files, contact details, profile pictures, and more.
The app can hack Facebook for Android without rooting. It's one of the only apps in the market capable of the feat. You can also use Cocospy to hack Facebook account and messages without a password.
2.2 Cocospy is an outstanding Facebook spy app
Cocospy is stealthy. It's trusted, reliable, and provides a powerful feature set. Here is why Cocospy is one of the best Facebook hacking tools around:
Cocospy, as we mentioned earlier, has been around for a long time. It's used by hundreds of thousands of people from all over the world. It's a legit, fully working spy app. With Cocospy, you don't have to worry about data theft or viruses.
Once Cocospy has been set up, you can control it from any browser remotely. You'll be able to remotely and discreetly view your target's Facebook activity. If the need arises, you can also remotely uninstall Cocospy from the dashboard.
Hack Facebook without root
The app allows you to hack Facebook without rooting the Android device. Rooting a device, which provides administrator-level access, is hard. If done wrong, it can make the phone inoperable. You won't have to do it with Cocospy, though.
Finally, Cocospy is a 100% discreet spy app. You can hide it when it's installed. The app icon doesn't show up in either the drawer or installed apps list. Cocospy runs in the background invisibly without the user's awareness.
Apart from Facebook hacking, Cocospy allows you to read messages, view call logs, check locations, see photos/videos, and much more.
Also Read: How to Hack FB Account Easily Without Surveys
Part 3: How to Hack Facebook Messages Online with Password Cracking
The third way to hack a Facebook account online is to do it manually, without the use of a helpful app like Spyic. Note that manual Facebook hacking is difficult. You need at least an intermediate amount of technical skills for it.
If you choose to hack someone's Facebook account manually with a Facebook password cracker, the chances of you being found out are high. Not only could you permanently harm your bond with the target, but you may also become liable to legal action. Proceed with caution.
If you're willing to take the risk, though, here are three manual methods to hack a Facebook account manually:
Make Facebook's Password Reset work for you
Facebook has a password reset feature that you can potentially use to your advantage. The goal is to trick Facebook into thinking the account you're trying to get into is yours. You need to get Facebook to send you a password reset link.
If you have a password reset link, you can change the existing password to whatever you want. You'll then be able to get into the target's Facebook account.
How do you trick Facebook's password reset? It's surprisingly simple if you're Facebook friends with the target. Here are the steps to follow to reset someone's Facebook password:
Step 1: Find out your target's Facebook login ID. If you're friends with them, navigate to their profile. Look for the email ID listed in the Contact Info section. This is probably the ID they use to log in. If not, try alternate emails.
Step 2: Log out of Facebook. At the login screen, click "Forgotten your password?" and type in the target's email. On the subsequent screen, click "This is my account".
Step 3: Facebook will ask whether you want a reset link sent to a registered email ID. You don't want that. Choose the "No longer have access to these" option at the bottom.
Step 4: When Facebook asks "How can we reach you?" type in an alternate email ID.
Step 5: Facebook now requires you to answer a security question, something personal about the target. If you can answer it successfully, you'll be sent the password reset link. That's it!
Can't answer the security question correctly? Not a problem. Follow these additional steps:
Step 6: Click on the "Recover your account with the help from friends" option. This brings up a window with a Friends selection screen. Facebook will send these friends your password reset link. You need to gather info for 3 friends for a complete link.
Step 7: Create 3-5 fake Facebook accounts. Send your target friends requests. Wait for them to add you.
Step 8: Choose your fake accounts to the recipients of the password reset information.
If everything goes right, you now have access to the target's Facebook account.
Don't Miss: How to Get Someone's Facebook Password Without Changing It
2. Phishing
Phishing is a very common method by which hackers get into people's Facebook accounts. You can make it work for you, provided you can get a basic webpage up and running.
How does it work? Hackers create a duplicate Facebook login page. It looks exactly like the original, except it has a different URL. When the target enters their Facebook ID and password, it gets sent to the hacker instead of to Facebook.
How do you phish your target's Facebook credentials? Here are the steps you need to take:
Step 1: Create a fake Facebook login page.
Step 2: Trick your target into visiting the fake Facebook login page. How? That's for you to figure out. Usually, hackers use something enticing.
They send the target an email with an invite to a Facebook contest, for example, where the target can win free goodies.
Once you have phished their ID and password, you can use the info to log in to their account.
Also Read: How to Read Other's Facebook Messages Without Password
3. Attempt a "Man in the Middle" attack
Finally, you can try a "man in the middle" attack to hack into Facebook. What's a "man in the middle" attack? As the name suggests, it involves getting in the middle of the end user – your target – and Facebook.
When your target sends their info to Facebook like their login name and password, you attempt to intercept the data. How do you intercept the data? You set up a personal Wi-Fi network for them to connect to.

When the user connects to your Wi-Fi network, you either route them to a fake login page or just "inspect" the data as it goes to Facebook. As you've probably figured out, it takes serious tech chops to get this to work.
Here are the steps to follow to attempt a man in the middle attack:
Step 1: Create a personal Wi-Fi network with the help of a Wireless Network Adapter. You'll have to buy the adapter if you don't have one. They usually cost $15-30.
Step 2: Get your target to join the WiFi network. How? Usually, the prospect of free WiFi is enough to lure most people.
Step 3: Route them to a fake login page and steal their ID and password. Or you could just inspect the data while you route it to Facebook's server.
Conclusion
The easiest way to hack Facebook online is to use a spy app like Spyic or Cocospy. These apps are powerful and easy to set up. You don't need any coding skills to install or use them. Finally, they are 100% discreet. You won't ever be found out.
If you have technical skills, you can try password resetting, phishing, and man in the middle attacks. These methods are tough to pull off and also leave you vulnerable to detection. They're definitely not as convenient as Spyic either.
References:
This post is also available in: Português (Portuguese (Brazil)) Español (Spanish) Deutsch (German)