Someone close to you is keeping something from you and you're desperate to find out what. You could be worried about them or just trying to protect yourself. Regardless, you need access to their mobile phone, which you think has the info you need.
You're not a pro hacker, though, with fancy gadgets or coding skills. You're an ordinary person who has access to a computer and an internet connection. The question is: How to hack mobile phones with just your computer? Is it even possible?
Yes, it's possible. You don't need to be a tech genius to do it either. In fact, with the right software, it's effortless. We'll get into that later. But first, you might be wondering if it's legal to hack a phone.
Here are some commonplace scenarios where you might want to hack someone's phone:
Monitor your kids: Your child's behavior has been off recently. You're wondering if they're being bullied or have fallen in with the wrong sort of people. Keeping an eye on their phone activity, you believe, will give you the clues you need.
Supervise employees: If you have good employees, your business will flourish. On the other hand, with bad ones, your business will fail. If you're a manager, keeping an eye on your employees via their phones might be a good way to find good employees.
Catch cheating spouses: Your spouse has been acting differently lately. The shared intimacy has disappeared. You think they are cheating on you. How do you find out for sure, though? Their smartphone probably has the evidence you need.
It's legal in the US to monitor kids and employees but not spouses. Check your country's laws before hacking.
We give you two easy solutions to hack target Android and iOS mobile phones.
Part 1: How to Hack Mobile Phones with Computer via Spyic
There are several remote monitoring apps on the market that claim to allow you to see what's happening on a target device. Many of these apps aren't legit, though. Some are scams while others steal your personal information.
While legit spy apps are few and far in between, they do exist. Spyic is one of the most trusted, legit remote phone spy apps on the market.
1.1 Spyic: Making Remote Hacking Effortless
Spyic is a remote monitoring, security, and control app. It's used by over a million people from 190+ countries. The app is a favorite with parents who want to keep an eye on their kids and employers supervising employees.
Spyic is compatible with both target iOS and Android phones. It's one of the only apps offering an extensive feature suit without needing you to jailbreak or root the target device. You can use Spyic remotely and discreetly.
What can you do with Spyic?
The app provides an extensive feature set. You can access almost all the features without needing to root or jailbreak the target device:
Calls: View the call log details. This includes contact names, call durations, and timestamps.
Contacts: Take a look at who your target communicates with most often via text messages, phone calls, and social media apps. Get access to the address book.
Messages: Read all messages and iMessages sent or received by the target. This includes even the deleted messages, which Spyic automatically backs up to your account.
Locations: View a summary of recently-visited places. These will be pinned up on a map. You also get details like geographical coordinates, addresses, and timestamps.
Browser History: Know which sites your target visits most often. Read site descriptions and see if they're accessing something inappropriate if they are a child.
Media Files: View all pictures and video files that have been downloaded the target device. This includes downloads as well as the pictures/videos the target has taken themselves.
Social Apps: Check Facebook, Instagram, WhatsApp, and LINE. For iOS, Spyic allows you to check WhatsApp and LINE messages without the need to jailbreak.
Calendar: Take a look at the target's calendar. View upcoming engagements and dates.
Applications: Check a list of the applications installed on the target device with accompanying timestamps. This includes social media apps, games, and more. Block access to any app.
SIM Card: Get a look at the target's SIM card details, including the carrier information and their location on a map. Be notified if they change numbers.
Keylogger: With the Spyic keylogger, you get access to read every keystroke typed by the target on their phone.
1.2 How to Hack Someone's Phone Using a Computer
Spyic allows you to hack target Android as well as iOS devices on any PC. Here are the steps to follow to get Spyic up and running on the target device:
Sign up for a Spyic account. Use an existing email ID for the user name.
Purchase a Spyic subscription. You can choose between Basic, Premium, and Family, depending on the number of devices you want to monitor.
Follow the setup instructions provided in the Welcome email. For iOS, Spyic is fully web-based, there are no downloads involved. For Android, you will have to download a small app to the target device.
Wait for Spyic to sync up with the target Android or iOS account. The dashboard will load up.
The Spyic dashboard gives you complete access to the target phone. You can see a list of supported features to the left.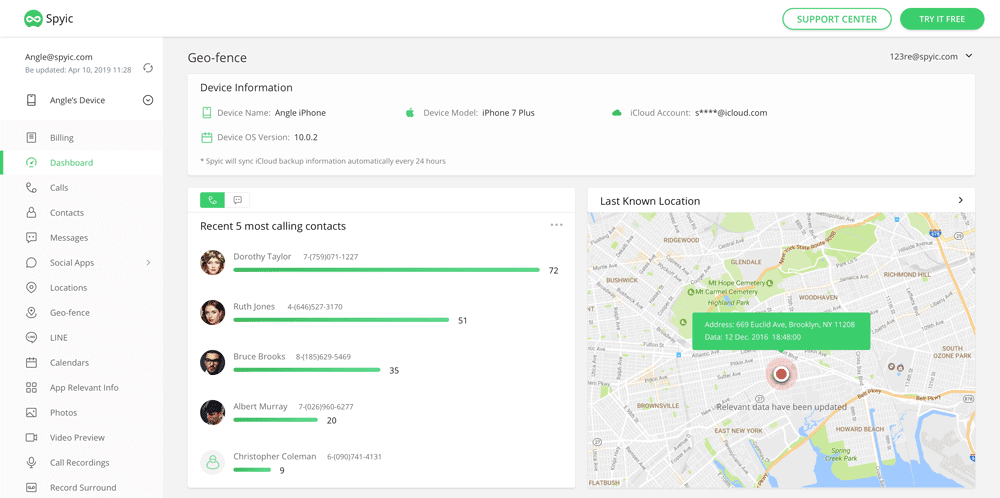 Why Spyic is one of the best hacking apps on the market
Here is what makes Spyic for Android and iOS so special:
Spyic can be set up to work with target iOS devices remotely. All you need is the target's iCloud credentials. Spyic will sync up with the iCloud account periodically to show you what's happening on the target iOS device.
For Android, Spyic is a very small app, less than 2 MBs. You need to physically install it onto the target device. It takes only a handful of minutes to do so. Once installed, Spyic can then be controlled remotely from the dashboard.
After Spyic has been installed, you can monitor the target device from any PC browser. All you need to do is log in to your Spyic account. Once you're logged, the dashboard will load up. You can access Spyic's various features from here.
There are several spy apps on the market. However, most of them require you to jailbreak or root the target device. Jailbreaking/rooting is complex. If it goes wrong, it may cause the device to stop working. It may also void the warranty.
Fortunately, Spyic works without jailbreak and rooting on both Android and iOS. You don't have to worry about damaging the target device or make it vulnerable to malware.
Spyic for iOS and Android is virtually undetectable. The owner of the target device will never find out they're being monitored. The iOS version is fully-web based, with no software involved. That makes it impossible to detect.
The Android version of the app is very stealthy. It can be hidden and runs in the background without consuming too many system resources. The app icon doesn't show up in the drawer either.
Works with the latest devices
Spyic will work with all the latest Android and iOS versions. You can spy on both phones as well as tablets. Note, however, that tablets without cellular connections will have some features, like SIM card, disabled.
Check out the Spyic live demo here!
Don't Miss: How to hack someone's phone without having it

Part 2: How to Hack Mobile Phones with a Computer via Cocospy
How else can you hack others' phones with just a computer? Cocospy is an excellent alternative to Spyic. Just like Spyic, Cocospy allows you to hack target Android and iOS devices in a hassle-free way.
The app is very popular and highly trusted. It's used by concerned parents, employers, and cybersecurity experts globally. It's legal to use provided you have permission to monitor your target.
Why Cocospy?
Cocospy is amongst the best spy apps in the market. Here are the top reasons to pick Cocospy over the competition:
You don't have to jailbreak or root
Most of the spy apps on the market won't work without jailbreak or root. Cocospy, however, does. You can read messages, check call logs, look at locations, and much more – all without the hassle of jailbreak/root.
Cocospy can be set up within minutes on both iOS and Android. For target iOS devices, Cocospy is web-based. There are no software downloads involved. For Android, Cocospy can be downloaded and installed in less than 3 minutes.
Your target will never detect you. Spyic for iOS is a ghost app since it's fully web-based. The Android version of Spyic is extremely stealthy. It works, hidden, in the background. You can hide the app icon from the drawer and installed apps list both.
No technical knowledge needed
Don't have any technical knowledge? Not to worry! You don't need any technical knowledge to either set up Cocospy or use it. You are provided with detailed, easy-to-follow installation instructions. Everything is simple and intuitive.
There are plenty of spy apps that steal your information. They also occasionally inject your device with malware or viruses. You can trust Cocospy, though. It's a legit, user-verified app that has been around for a long time.
Also Read: How to hack a phone with just the number
Conclusion
How do you have a mobile phone with a computer? You can do so quickly and conveniently by using Spyic or Cocospy for Android and iOS. Both apps are legit and affordable. You'll be able to remotely and discreetly monitor your target in no time.
This post is also available in: Deutsch (German)