Do you suspect that your girlfriend is spending too much time on Facebook lately? Or perhaps your child has just started using Facebook and you want to make sure they are protected from online predators?
In either case, it can keep you up at night wondering what the other person is up to. If only there was a way which would help you to find out…
What if I told you there was? What if you could hack someone's Facebook account in a very easy way without the other person finding out? You must be feeling that I am kidding. Read on to be surprised…
Part 1: How to Get Someone's Facebook Password Without Changing It
While it sounds like a tough job, believe me, it is not. If you have the right tool for the job, you can accomplish it without any knowledge of hacking at all!
So what should the right tool be? Hmmm… I was just as curious as you. After a lot of research on the internet, I found the easiest and the best method to hack someone's Facebook password.
1.1 Spyic – The Best Creation Since Sliced Bread
When I was up for nights researching on the perfect tool for hacking a Facebook account, I somehow stumbled upon Spyic (thank you internet). At first, when I read about its features, I didn't believe it. I thought that cannot happen.
However, I used it for myself and found out that I was totally wrong. Spyic is every bit of what they promise, and more.
So what exactly is Spyic? Read on to find out:
What is Spyic?
Spyic is a phone monitoring application that can help you in accessing anybody's Facebook account. It can give you the Facebook account credentials of the person. Not only that, it can even show you their messages, pages visited, and information related to other social media apps too.
All of this happens remotely even when the target device is in a whole different part of the world. You can control it through Spyic dashboard. You don't even need to download any application for that. All you need is a web browser.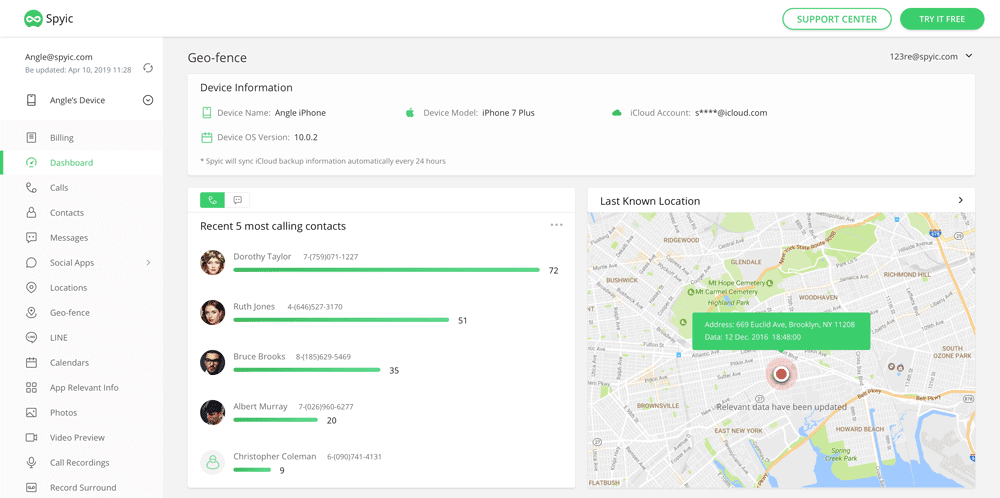 What Can Spyic Do for You:
Spyic can accomplish a whole lot of things. It has features that will make you feel as if you have the target phone in your own hand. These include:
Spyic can conveniently keep an eye on the social media activity of the target device. This includes accessing their chats, the pages they are visiting, the photos they are sending and receiving, etc.
Yes, you read it right. Spyic even gives you the feature to record someone's phone calls. Now there will be no more doubts. You can know for sure everything about what the other person is talking on the phone.
Spyic gives you complete information of all the calls made and received by the target device. This information includes caller identity, call duration, most frequently contacted callers, etc.
Location Tracking and Geo Fencing
This allows you to track the location of the target phone wherever it is on the planet. You can even set a geographical perimeter for the phone. When the location crosses this perimeter, you will receive an alert.
This feature keeps a record of all the messages sent and received by the device. You can access these messages even if they are deleted from the device itself.
Keylogger is a very advanced feature. It records all the keystrokes that have been made by the target device. This even includes typed information like usernames and passwords.
Hacking without Jailbreaking/Rooting
Spyic allows you to hack the target phone without any jailbreak or root. There are not many apps in the world that can deliver that.
No App Installation to Monitor
You do not need an app to monitor the target device. Spyic works through the web. All you need is a web browser. Spyic opens conveniently in any web browser of your choice.
The thing I like about Spyic the most is that it is so cheap that even a student can afford it. You will yourself be amazed when you see the number of features you get at such a low cost.
1.3 Accessing Someone's Facebook Account Using Spyic
Accessing someone's Facebook account with Spyic is as easy as learning the alphabet. All you need is a Spyic subscription (which hardly costs anything) and you are good to go.
Here is how to find someone's facebook password with Spyic:
a.) Getting a Spyic Account
Sign up for Spyic. It will take less than a minute.
Select your target device type between iOS and Android (yes, Spyic works on both).
Based on your target device, you will be shown the pricing plans. Select the plan that suits you. I would suggest going with a longer subscription for better savings.
You will get a welcome email from Spyic. Click on 'Start Monitoring'.
You will be taken to the setup process. Enter the name of the target user, the age, and the operating system.
For Android, read the next section 'b'. For iOS, skip to 'c'.
b.) For Android
For an Android device, you would need to install the Spyic app on the target phone. Not to worry, this app runs in stealth mode. Once installed, you have the option to completely hide the app icon.
Download Spyic on the target phone. Go to http://viptrack.pro/ on the phone. Slide right to download the app from the page. Install the file.
Once Installed, you will have the option to hide or keep the app's icon. You can choose to hide it if you wish to operate in stealth mode. If you want to open the app on the target phone later, you can evoke it with **001**.
Once it is done, you are ready to use Spyic. Click 'Start' on the web browser where you wish to monitor the data. The system will take a few minutes to download the data from the device.
c.) For iOS
Spyic works on all versions of iOS and on all devices like iPhones and iPads. For iOS, you do not need to download the application on the target device. All you need is the iCloud credentials of the device.
Enter the iCloud credentials of the target device.
You will be shown the phones linked to the account. Select the phone whose backup you wish to see.
You are ready to start monitoring. Click "Start' and you will be taken to your dashboard in a few minutes once the data is downloaded.
How to Hack FB Password Without Changing It
Once you have access to Spyic Dashboard, hacking Facebook is a child's play. There are so many ways with which you can go about accessing someone's Facebook account.
1. Accessing Facebook Password Through Keylogger:
Spyic dashboard comes with a keylogging feature. It keeps a record of all the keystrokes made by the target phone. This includes typing the username and password of Facebook.
You could check in the keylogger the Facebook credentials that the user has typed. You can use these credentials to login into the target person's account.

2. Using Spyic's Inbuilt Facebook Monitoring Tool:
Spyic understands your needs. This is why it has a  Facebook tab on the dashboard. This tab enables you to check the Facebook data of the target device. It even includes the message they have sent or received.
Don't Miss: How to Read Other's Facebook Messages Without Password
3. Using Cocospy:
Cocospy is another phone monitoring tool just like Spyic. It is a feature rich tool focussed on user convenience.
With Cocospy, you can get into anyone's Facebook account in a matter of five minutes. Don't take my word for it. See Cocospy in action now in this live demo!
Cocospy isn't just limited to Facebook. With its use, you can even open doors to other social media accounts of the person, like Viber, Snapchat, etc.
The pricing plans are convenient and cheap. I'd suggest going for their yearly membership since it is always going to come in handy.
And the best part? You can even monitor multiple phones through a single dashboard!
Convinced already? Sign up free for Cocospy and get started with it now. The steps are the same as Spyic mentioned above.
Also Read: How to View Someone's Facebook Inbox Messages
Important Takeaways
The methods we mention do not require you to root your Android smartphone or jailbreak your iPhone. Therefore, you will not find anything better on the internet.
These apps are some of the most trusted ones I have found in my research. These apps have a user base of over a million users all across the world. Therefore, you wouldn't have to worry about the privacy of your data.
There might be other methods which will CLAIM to hack a Facebook account for free or through other means. However, I wouldn't suggest doing something reckless that puts your data and security at risk. The methods I suggested come at minimal pricing. Better safe than sorry!
You will no longer have to wonder how to get someones facebook password without changing it. Follow my guide and get it within minutes now. Thank me later!
This post is also available in: Português (Portuguese (Brazil)) Español (Spanish) Deutsch (German)